Home /

Euromate: We know the importance of air quality, now it's up to our government in The Hague
Euromate: We know the importance of air quality, now it's up to our government in The Hague
28 January 2022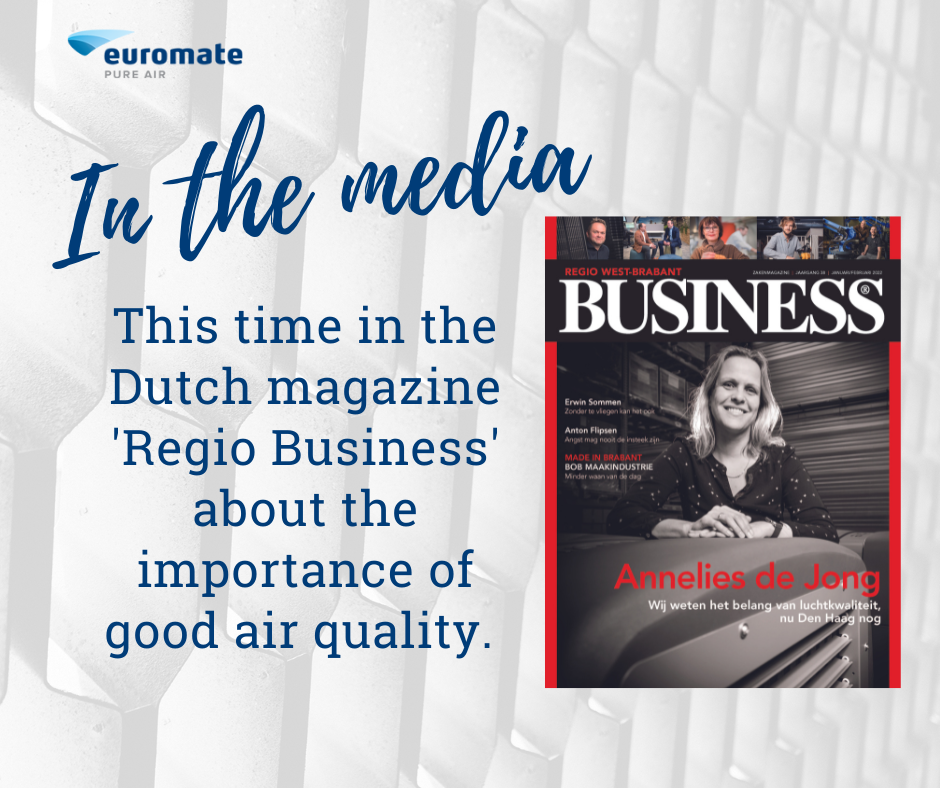 (Fine)Dust
Article in Region Business Magazine
Edition: Jan – Feb 2022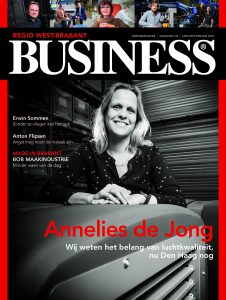 Fine dust, viruses, welding smoke particles and odours. With air cleaners you remove a lot of dirt from the air. Also aerosols with the coronavirus. At Euromate they are sure: air cleaning can contribute to solving the pandemic. Now it's up to The Hague.
Annelies de Jong knows all about the importance of clean air. Privately and professionally. 'I have asthma, so I can't work in an environment with polluted air. The Euromate machines remove all types of pollution from the air: fine dust, welding smoke particles, bacteria and odours – but also viruses.'
Less invasive
When we visit Euromate, we are in the middle of the third lockdown. According to Annelies, we could have prevented the spread of the virus with less drastic measures. Independent scientific research shows that the virus is spread through the air by so-called aerosols. These are released when you breathe and are so small that you can hardly see them. Our air cleaners remove these aerosols from the air. This limits the risk of contamination. With the right equipment, schools and restaurants can continue to operate. Germany and Belgium have already understood this. Unfortunately, our government does not yet see air cleaning as part of the solution in the fight against corona.
No one got infected
The company's own practice supports scientific research. 'For the past two years we have always worked in the office,' says Annelies. 'We naturally adhere to the applicable measures. There are also air cleaners throughout the building. Without knowing it, we have met with infected persons, yet nobody on the work floor became infected. Tests by independent organisations had already shown that our devices are effective against the spread of corona. This high level of effectiveness has been confirmed once again.' Annelies emphasises that Euromate is active in more areas than just the coronavirus. 'In every working environment there is something in the air that can damage your health. We have been removing these harmful substances from the air for over 45 years.'
Record executive Den Dekker
In 1975, Dick den Dekker, record label owner of Roxy Music and other labels, started looking for a way to remove particulate matter from the air and thus improve sound quality. After research and experimenting, he brought his own air cleaner with an electrostatic filter onto the market. Annelies: 'This device had the desired effect on fine dust, welding smoke and cigarette smoke. From there, it was a relatively small step to solutions for every workplace. Meanwhile, we serve the entire world from Breda, The Netherlands. We have offices in Germany and Belgium and we work with fifty distributors worldwide.'
Underestimating the consequences
Annelies sighs: 'Not all entrepreneurs are convinced of the need for clean air. The thinking is often: if you don't see it, it's not there. In logistics, for example, there is a lot of sweeping. The paths are clean, but there is a layer of dust on the products. If you ask more questions, it turns out that there are also stuttering processes and a high level of absenteeism. These are things that are caused by fine dust, among other things. We recently introduced a measuring system that allows us to infallibly show how much particulate matter is in the workspace and when there are peaks. That differs per company and per season. We can programme our air cleaning units accordingly and adjust the maintenance to it. That's how we deliver customised work.
Running through our veins
Euromate serves the industrial market and the comfort market with a range of products. 'In the past few months, air cleaning companies have shot up like mushrooms, but there is a substantial difference between a machine from China and our machines. With our products, there is no air leakage. This means that all the air drawn in passes through the filters. With cheaper devices, the seal is insufficient and the air passes through. So the air is not fully cleaned. This is how you create false safety. We really distinguish ourselves by quality and customisation'. That vision is supported by the whole company. Annelies tells with undisguised pride that later that day the Finance manager of Euromate has a video call with the mayor of the town of Hoogstraten in Belgium. Together with the sales director they discuss what Euromate can do for schools and the municipality. That is actually not her job, but she does it from her personal role. 'It's great that everyone within Euromate looks at how they can put the importance of air cleaning on the map. That is really in our veins.'
Higher goal
When asked, Annelies explains the difference between ventilation and air cleaning again. When you ventilate, you replace the air from the room with outside air. To remove corona from the air, you have to change the air at least five times an hour. If you only do that with ventilation systems or by 'airing', you get draughts. And there is a loss of energy because outside air has to be reheated or cooled. Using air cleaners to supplement the existing situation is much more effective. We did a test at a school in Breda. The teacher said that the children were much more alert and that she herself suffered less from headaches. It's not just about putting Euromate on the map. We are convinced that adding air cleaning is part of the solution.'
Text: Raquel Mourik
Photography: Kees Bennema