Home /

Interview: Professional air cleaners – the ideal complement to ventilation systems
Interview: Professional air cleaners – the ideal complement to ventilation systems
6 December 2022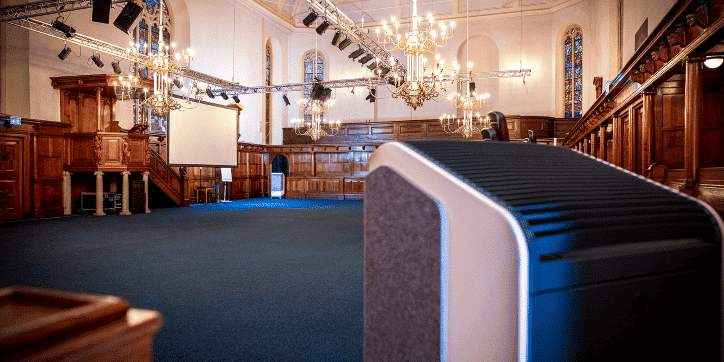 (Fine)Dust
Interview: RCC K&L, November 2022
Partly as a result of circulating viruses such as corona and flu, employers are becoming increasingly aware of the importance of good air quality. As a result, air cleaners have proven to be a suitable solution alongside ventilation systems. At Euromate in Breda, they know all about this. The company has been a specialist in professional air cleaning systems for more than 47 years.
Since 1975, the name Euromate has been synonymous with high-quality air cleaning equipment. Development takes place in-house and production is mainly with European components. This results in reliable quality, allowing the Dutch manufacturer to offer a five-year warranty on a number of virus-proof air cleaners, in combination with a maintenance contract. These devices have been tested and certified by independent test centres. This is often not the case with the new air purifier manufacturers that are springing up like mushrooms due to the exponential rise in demand.
Solutions for any indoor space
The wide range of user-friendly top products proves its worth in the most diverse situations. Examples include industrial environments, distribution centres, schools, care institutions, offices and theatres. Solutions that contribute worldwide to a clean indoor climate, less sick leave and substantial savings on energy costs. Moreover, they go hand in hand with expert advice and comprehensive technical support during installation.
Supplement in case of ventilation shortage
"As a complement to ventilation and building air handling systems, our recirculating air cleaning solutions are the ideal combination for a healthy and pleasant customised indoor climate," says business development manager Marco Balkema. "While ventilation systems in principle provide companies and organisations with sufficient fresh indoor air, everyday practice unfortunately shows all too often that ventilation shortages occur in rooms where many people congregate. This happens simply because the ideal frequency of air exchange is not achieved. Whereas it is necessary to change the air within a room five or preferably six times an hour, in many cases this happens only twice at most. That is far too little."
Lower energy costs
Balkema continues: "Through the use of our professional air cleaners, we offer a quick and easy complementary solution to generate sufficient fresh air in such cases. Our modular devices draw in the air contaminated with viruses, bacteria, fine dust and odours, filter it and then blow the clean air back into the room. They also ensure that the air in a room is optimally distributed and that windows can remain closed. And that is reflected in your energy bill. A welcome extra, especially in a time of sky-high gas and electricity prices."
Ricoh
Solution for schools
A popular air purifier in schools is Euromate's Pure Air Shield (PAS) 3300. "This plug-and-play air cleaner, equipped with HEPA 14 filter, is powerful enough to get and keep an entire classroom clean," says Balkema. "For classrooms with little floor space, we also offer the VisionAir air purifiers , which can be easily attached to the ceiling or wall and trap pollution in the room." Certified by reputable independent bodies, these air purifiers continuously filter viruses, bacteria, fine dust, pollen and odours from the air. As the devices are available in different versions, a suitable solution is offered for every room.
Unique innovation for storage and logistics
In logistics centres, windblown dust likes to spread. So the need for air cleaning is high, but highly variable due to the extensive space. This is why Euromate developed the 'Air Monitor System' AMS 5: sensors continuously monitor the contamination before and after the installation of an air cleaning system, and the same sensors help control the operation of the system. A great example of how the manufacturer thinks along with the customer.
Cooperation with other parties
Besides offering first-class equipment, Euromate also distinguishes itself in the field in other areas. For example, the company provides its clients, including property developers, architects, construction managers and installation consultants, with advice surrounding the choice of the most suitable air purification system. First and foremost, however, Euromate focuses on perfectly supporting the person who applies the offered air cleaning solutions on a project basis: the installer. Because the 'home installer' knows the existing electrical and HVAC installations well, it is the right person to add an air cleaning system. Installed Euromate systems are adaptable according to the customer's changing needs: for example, an air purifier that filtered tobacco smoke in a smoking room can now be used with a different filter to combat virus-carrying aerosols.
Installer plays a major role
"We intensively seek cooperation with our partners and, in addition to their specific activities, are happy to prove our extensive knowledge and expertise," Balkema explains. "We do this by offering training courses on capacity, installation and maintenance. But also by providing comprehensive technical assistance on site. Especially when the installer in question runs into problems. One might think of insufficient capacity in the air handling unit or the high costs involved in expanding an existing installation. In such cases, as a sincere partner, we gladly prove our value additionally. We do not pull the wool over the installer's eyes, but rather strive to find a solution together through a mix of expertise. A solution that really benefits both client and end user".
Would you like to know more about our solutions or are you interested in a collaboration? Leave your details and we will contact you within 24 hours on working days.