Home /

Interview: Clean air is needed where people come together
Interview: Clean air is needed where people come together
2 January 2023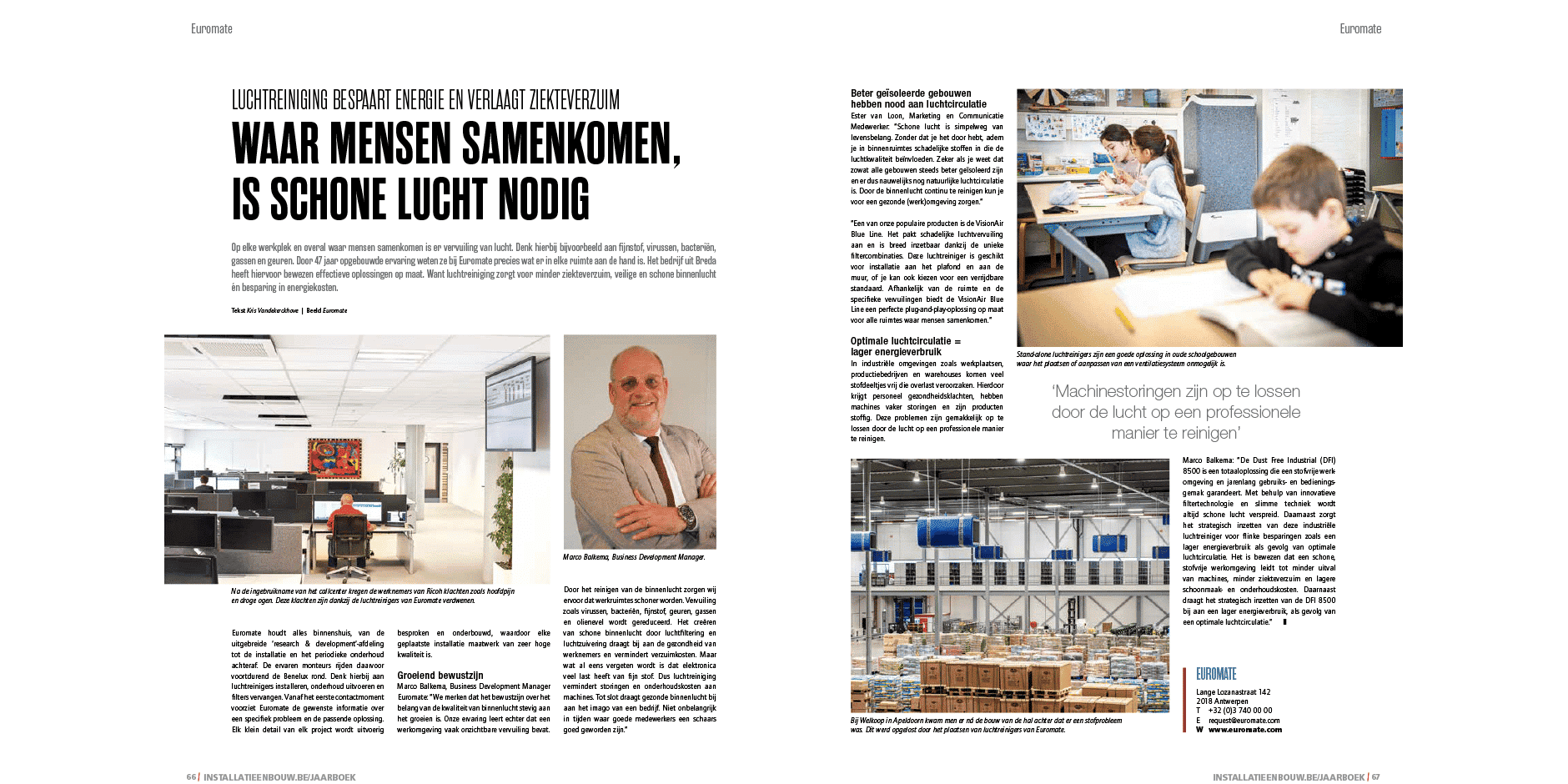 (Fine)Dust
Kris Vandekerckhove interviewed our Business Development Manager Marco Balkema for
the Yearbook 2022-2023 of Installation & Construction Magazine
Air cleaning saves energy and reduces absenteeism
Air pollution is present in every workplace and wherever people gather. Think, for example, of particulate matter, viruses, bacteria, gases and odors. Thanks to 47 years of experience, they know exactly what is going on in every room at Euromate. The company from Breda, The Netherlands, has proven effective tailor-made solutions for this. Air cleaning ensures less absenteeism, safe and clean indoor air and savings in energy costs.
Euromate keeps everything in-house, from the extensive research & development department to installation and periodic maintenance afterwards. The experienced mechanics are constantly driving around the Benelux for this. This includes installing air purifiers, performing maintenance and replacing filters. From the first moment of contact, Euromate provides the desired information about a specific problem and the appropriate solution. Every small detail of every project is discussed and substantiated in detail, so that every installed installation is custom-made of very high quality.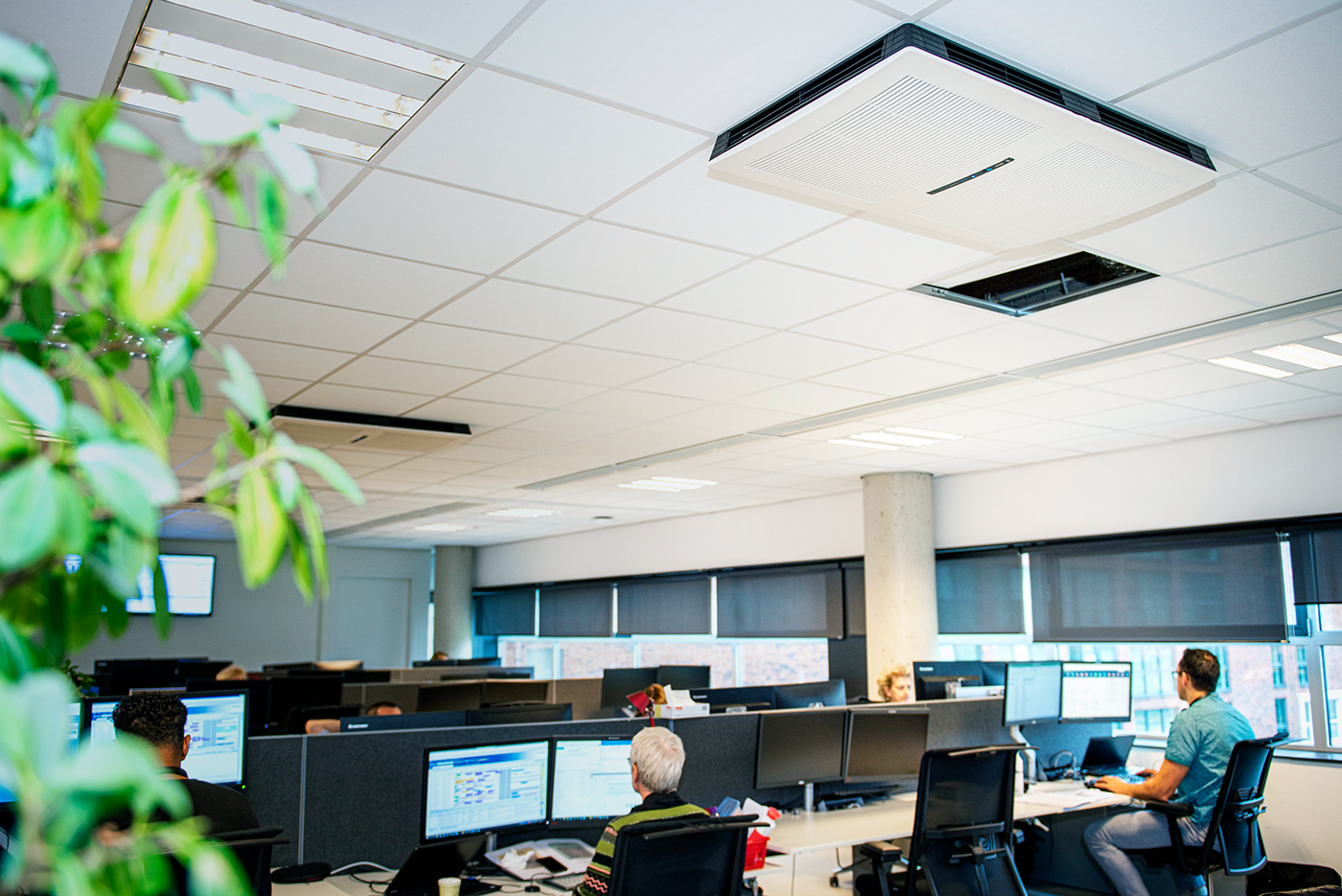 After the call center was commissioned, Ricoh employees began to experience complaints such as headaches and dry eyes. These complaints have disappeared thanks to the Euromate air cleaners.
Growing awareness
Marco Balkema, Business Development Manager Euromate: "We notice that awareness of the importance of indoor air quality is growing rapidly. However, our experience shows that a working environment often contains invisible pollution. By cleaning the indoor air, we ensure that workspaces become cleaner. Pollution such as viruses, bacteria, particulate matter, odors, gases and oil mist is reduced. Creating clean indoor air through air filtration and air purification contributes to the health of employees and reduces absenteeism costs. But what is sometimes forgotten is that electronics suffer a lot from fine dust. So air cleaning reduces breakdowns and maintenance costs on machines. Finally, healthy indoor air contributes to a company's image. Not unimportant in times where good employees have become a scarce commodity."
Better insulated buildings need air circulation
Ester van Loon, Marketing and Communications Officer: "Clean air is simply vital. Without realizing it, you breathe in harmful substances indoors that affect the air quality. Especially when you know that almost all buildings are better insulated and there is hardly any natural air circulation. By continuously cleaning the indoor air, you can ensure a healthy (work) environment."
"One of our popular products is the VisionAir Blue Line. It tackles harmful air pollution and is widely applicable thanks to the unique filter combinations. This air purifier is suitable for installation on the ceiling and on the wall, or you can also opt for a mobile stand. Depending on the room and the specific pollution, the VisionAir Blue Line offers a perfect plug-and-play solution for all areas where people gather."
Optimal air circulation = lower energy consumption
In industrial environments such as workshops, production companies and warehouses, many dust particles are released that cause nuisance. As a result, staff suffers health problems, machines malfunction more often and products are dusty. These problems are easily solved by cleaning the air in a professional way.
Marco Balkema: "The Dust Free Industrial (DFI) 8500 is a total solution that guarantees a dust-free working environment and years of ease of use and operation. Clean air is always distributed using innovative filter technology and smart technology. In addition, the strategic use of this industrial air purifier ensures considerable savings, such as lower energy consumption as a result of optimal air circulation. It has been proven that a clean, dust-free working environment leads to less machine downtime, less absenteeism and lower cleaning and maintenance costs. In addition, the strategic use of the DFI 8500 contributes to lower energy consumption, as a result of optimal air circulation."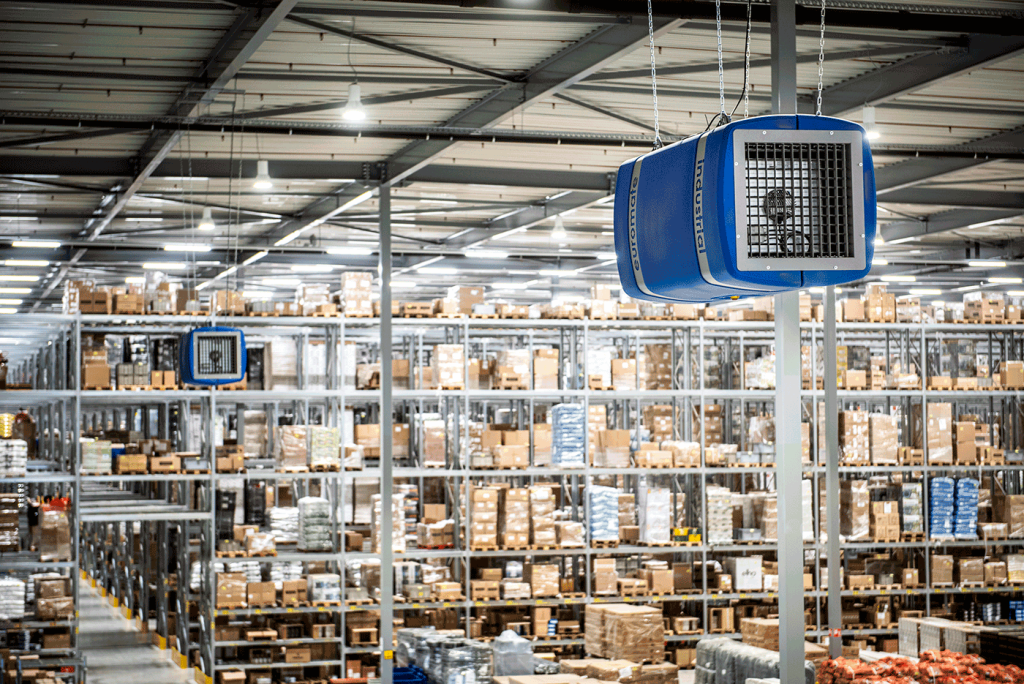 At Welkoop in Apeldoorn, they found out after the construction of the hall that there was a dust problem. This was solved by installing air cleaners from Euromate.
Contact
Do you also want safe and clean indoor air in your organization? Leave your details via the form and Mo will contact you within 24 hours on working days.