Home /

Interview: 'Companies should strive for healthy indoor climate'
Interview: 'Companies should strive for healthy indoor climate'
9 May 2023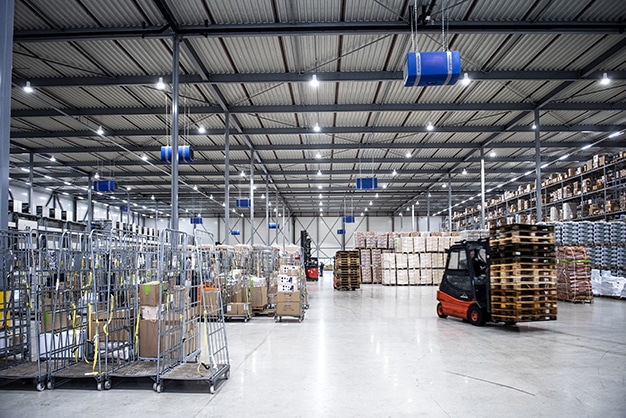 (Fine)Dust
Interview: online HVAC magazine
Modern, airtight building methods are top of the bill energetically, but a disaster for the indoor climate in large production or logistics halls, for example. Pollution created internally can no longer escape. It settles on products, equipment and is inhaled by employees. With Euromate recirculation air cleaners, this is a thing of the past.
Production processes, logistics operations and other business processes cause indoor air pollution in a company building. "In the past, indoor air ventilation was not such an issue because of the mostly open doors and gaps in the building structure," says Sjoerd Gersonius of Euromate. "Nowadays, with a view to energy-efficient construction, everything is 'pot sealed' and ventilation capacity is limited. In a large hall, only 2-3% of the total volume is ventilated per hour on average. This causes the amount of fine dust, pollen and allergens in indoor air to rise sharply."
Creating awareness
Euromate, manufacturer of products for professional air cleaning, makes a strong case for a healthy indoor climate in companies. "Our aim is to inform the market and create more awareness about this important topic," says Gersonius. "First of all, make sure that air quality is measured properly, preferably as close as possible to the production process or logistics operations where people are working. This can be done very efficiently with our fine dust sensor (Air Monitor System 5 – AMS), which provides insight into the amount of pollution in the air. The measurement data is then used in turn to control our Dust-Free Industrial 8500 air cleaners that filter all dust particles from PM0.3 to PM10 out of the air. Because they run only when the fine dust concentration is too high, some 30-40% energy is also saved. This ensures optimum fine dust extraction on the shop floor."
No large investments
Euromate's air cleaners recirculate indoor air. "All the air we draw in stays inside the building. After de-pollution, the cleaned air is blown back into the hall at the same temperature," Gersonius clarifies. "So in combination with the AMS, it is an energy-sustainable solution. It cleans the air without bringing out cooled or heated air. Furthermore, you don't have to make big investments in infrastructure. The air cleaners are plug and play and only need power supply. We have a customer who has as many as 20 air purifiers hanging in his large logistics hall, all communicating with each other. They notice a demonstrable difference, and spend less time maintaining machines and forklifts."
By cleaning the indoor air with Euromate's Dust-Free Industrial 8500 air cleaners, there is up to 60-70% less particulate matter in the air that does not settle on equipment, products and is not inhaled by people. "So with a relatively small investment, you can significantly improve the air quality in a working environment."
Would you like to know more about healthy indoor air in your warehouse or production area? Fill in the contact form and we will provide you with tailor-made advice.