Review of Ligna 2023 - the world's largest trade fair for the wood industry
24 May 2023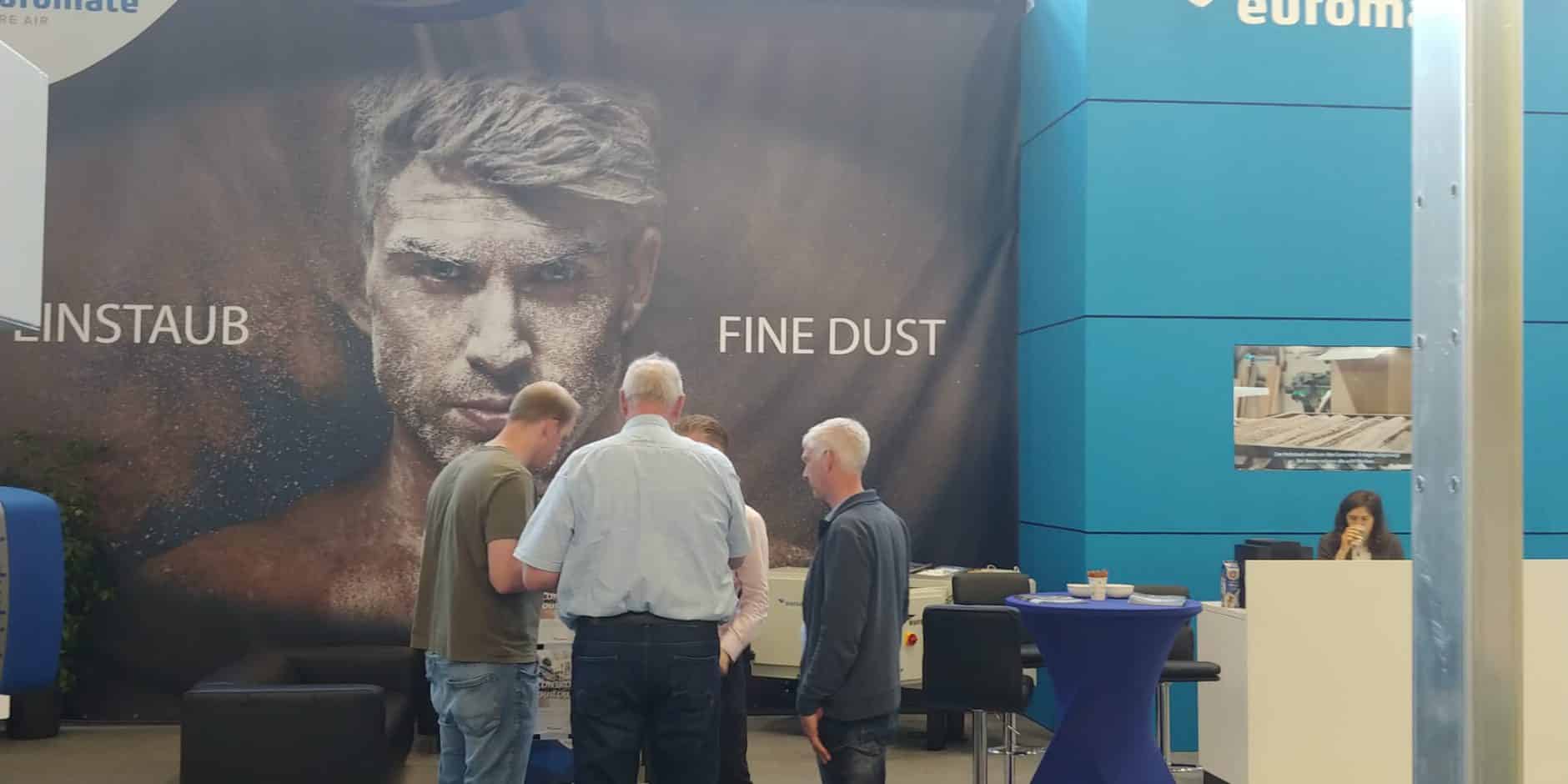 (Fine)Dust
LIGNA 2023, the world's largest trade fair for woodworking and wood processing, featured five days of innovation, inspiration and networking. From 15 to 19 May 2023, 1,300 companies from 50 countries presented their solutions for the wood and furniture industry, the wood trade and the primary sector. The focus was on the megatrends sustainability and digitalisation. The response from Germany and the rest of the world was corresponding. 80,000 visitors from 160 countries were informed about smart machines and resource-saving production processes. Euromate attended for the first time and showed innovative solutions to reduce residual dust in the air.
The anticipation for the fair was great. Exhibitors and visitors alike were excited to finally meet in person again after a four-year break and experience the concentrated innovative power of the industry first-hand. "LIGNA 2023 exceeded the high expectations of both exhibiting companies and visitors and demonstrated that the machines, equipment and solutions shown at the fair are paving the way for a sustainable and digitised wood, furniture and construction industry," said Dr Jochen Köckler, chairman and CEO of Deutsche Messe AG. "An impressive 60 per cent of visitors came from abroad. This means that LIGNA has further strengthened its position as the world's leading global trade fair."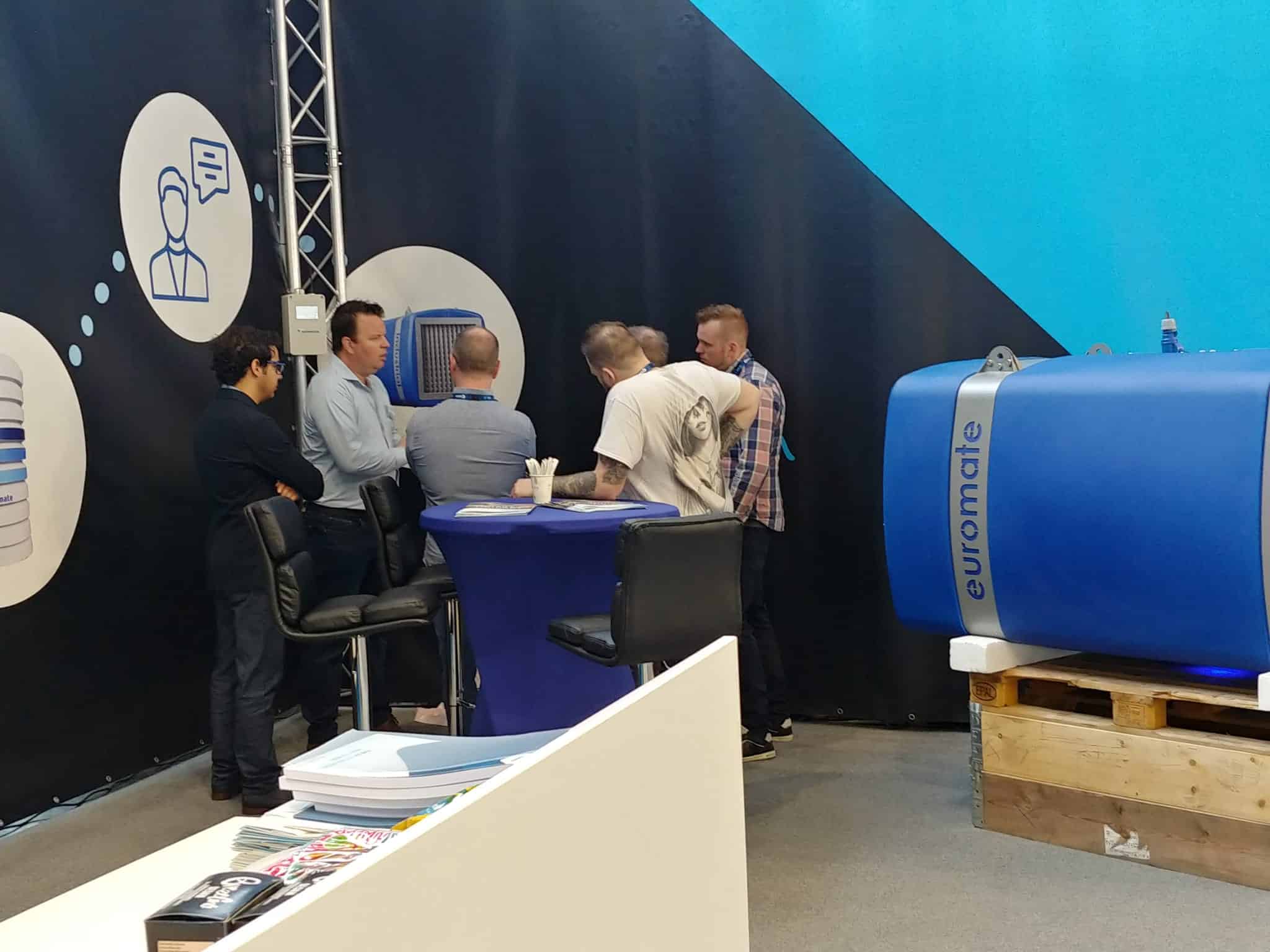 Knowledge transfer and networking
"LIGNA 2023 was not only a platform for presenting new technologies, but also a place for knowledge transfer and networking," said Dr Bernhard Dirr, Managing Director VDMA Woodworking Machinery. "The fair showed that the woodworking and wood processing industry offers its customers the necessary technologies for competitive and at the same time sustainable production. In light of the uncertain framework conditions currently facing the woodworking and wood processing industry, the success of LIGNA 2023 speaks for its status as a source of dynamism. It not only drives the industry in good times, but more importantly provides solutions for the challenging moments."
Smart machines, plants and processes that make costs and production more efficient were therefore particularly high on the community's agenda. Automation and process-optimising solutions to deal with the impact of skills shortages were also in high demand.
"The transformation of the industry could be experienced live in the exhibition halls," Köckler continued. The entire spectrum of the value chain was on display, from woodworking machines and equipment to tools and work processes, industrial robots or even exoskeletons to support experts from trade and forestry. The machines on display are often no longer exclusively for wood processing, but also for glass, plastics or composite materials. Köckler: "Furniture or building elements, for example, are made from a wide variety of materials. So it makes sense that the exhibitors at LIGNA are expanding their product portfolio accordingly and offering their customers a wide range of possibilities." This also applies to the dust meters and industrial air cleaners presented by Euromate, which are suitable for all types of dry dust.
A central theme of the fair was the importance of wood as a renewable raw material and its role in decarbonisation. In this regard, wood construction is gaining importance and new market opportunities are emerging for mechanical engineering.
Wood dust was a topic – also thanks to Euromate
Exhibitors at LIGNA 2023 presented solutions that significantly optimise all process steps in timber construction. In this way, costs can be saved and the use of the precious raw material can also be made as resource-friendly as possible. The flooring and furniture industries are also increasingly choosing wood as the raw material of choice, as sustainability is becoming increasingly important for end consumers. Innovative adhesives based on renewable raw materials, for example, also help reduce CO2 emissions.
LIGNA 2023 offered visitors a varied pre-programme with conferences, live presentations, special shows and award ceremonies. On the LIGNA.Stage in Hall 12, around 90 speakers presented current market developments and trend topics. Among them was safety engineer Dennis Vogtmann, who discussed the long-term health effects of wood dust exposure with Sjoerd Gersonius and Senol Göktas and urged to drastically reduce such exposure to protect workers' health (separate article follows). Below is the video of the panel discussion.
The shortage of skilled workers and recruitment were also addressed in a separate section, promoting exchanges between skilled workers and potential employers.
Köckler: "LIGNA 2023 demonstrated once again that it is an indispensable platform for the woodworking industry. The fair not only promoted the exchange of knowledge and experience, but also set the course for future-proof and sustainable woodworking and processing."
Comments from exhibitors
Senol Göktas, Managing Director at Euromate GmbH
"What a great trade fair we had last week. We met many new people, interesting companies and mentalities. It was nice that so many visited our stand, we were very happy about that. If we convinced some to greatly reduce hazardous wood dust in their business, we are more than satisfied."
Mo Khabbaz, Sales Manager Asia and Middle East
"Ligna Hannover was a great success and an incredibly rewarding experience for me as a representative of Euromate. Throughout the event, I had the pleasure of interacting with a wide range of people, companies and cultures, making useful contacts and exchanging innovative ideas. The overwhelming crowds at our stand filled us with joy and strengthened our belief in the importance of our mission. Knowing that we inspired numerous companies to take proactive steps to significantly reduce hazardous wood dust in their operations gives us great satisfaction. We are grateful for the opportunity to participate in such a remarkable event and look forward to the positive impact we can have on the industry together.
The next LIGNA will take place from 26 to 30 May 2025.