Home /

Coronaproof air cleaners from Euromate approved by Belgium government
Coronaproof air cleaners from Euromate approved by Belgium government
4 June 2022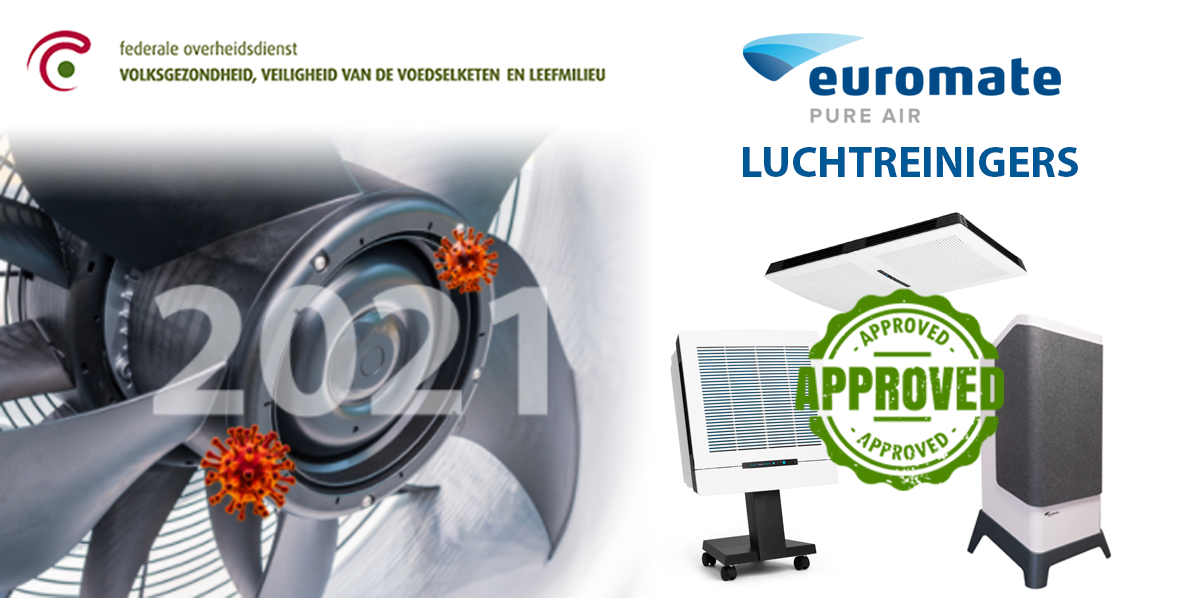 Viruses and bacteria
Air cleaning against Covid-19
New legislation for ventilation cleaning systems against Covid-19
The Supreme Health Council recommends ventilation and ventilation to limit the transmission of Covid-19 through the air in public spaces. The Care & Health agency states that the use of air cleaning/air filtering devices, as a supplement to ventilation, offers the possibility to further decrease the risk of contamination in the context of the COVID-19 pandemic. Air purification can be applied when ensuring the intended ventilation flow rate is not fully feasible for practical reasons, or as an additional measure in a room that is already sufficiently ventilated. By removing or inactivating potentially infectious aerosols from the air, air purification will further reduce the risk of contamination.
On May 28, 2021, rules have been laid down in the ministerial decree that manufacturers must comply with. These rules were amended on November 29, 2021 and are intended to provide a better overview and control of the offer. The ministerial decree prohibits systems that pose a health risk, such as certain UVC lamps with direct radiation and products that generate ozone, which ionize the air or use cold plasma.
Euromate's certified, plug and play air purifiers comply with the rules and have been found to be safe. They can therefore be found on the list of controlled and permitted ventilation purification products against COVID-19. The devices are equipped with HEPA efficiency filters and continuously remove up to 99.95% of the aerosols to which (corona) virus particles, bacteria and also (fine) dust adhere from the air. Depending on the type of device, a standing, wall or wall model is available. The air purifiers are frequently used in schools, offices, healthcare institutions, dentists, gyms and restaurants.